Excellent Spray-On Bedliners for Your Trucks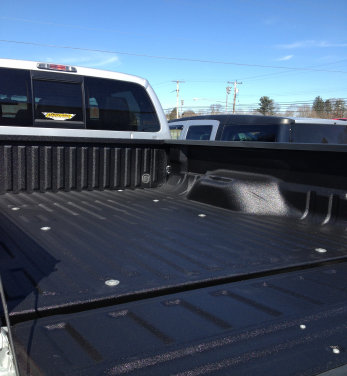 NO MORE RUSTING, ROTTING, SLIPPING OR CHIPPING EVER AGAIN!
We are a locally owned family business since 1994 that specializes in Spray-On Bedliners and Krown Rust Protection. All our Bedliners come with a Lifetime Warranty for as long as you own the truck, and we are also a OEM dealer for the Spay-On Bedliners, which means if your truck needs the factory Bedliner repaired or replaced, we spray the same product.
Not only does an Armor linings Spray on bed liner look great on your truck, it provides a protective barrier that prevents rust, dents, scratches, and chemical corrosion from what you haul, so your truck will have an extended service life and increased re-sale value.
Drop-ins rattle around, promote payload slippage, and allow moisture and grit to get underneath which causes rust and abrasion.
Our truck bed liner sets in seconds, can be walked on in minutes, and is ready for use in just hours! Go off-road or haul that heavy load today!
Armor Linings Unique spray on bed liners offer superior impact resistance. Our spray on bed liners are hard yet flexible, adhesion is permanent and will not crack warp or peel guaranteed! Extreme temperatures are no problem , our bed liners remain flexible from -40 to 200F.
Even Textured, Uniform Coverage: Our heated application system produces the best looking coating, with no blotches, drips, runs or uneven areas.
Prevents Rust and Corrosion: This moisture-proof barrier prevents water, scratches and chemical corrosion from many substances such as gasoline, oil and fertilizers.
Reduces Noise & Slippage: Unique, even-textured surface helps your load stay in one place, and offers sound dampening features as well.
No Loss of Space: The application follows the contours of your bed and has minimal effects on cargo capacity, leaving access to tie downs, fifth-wheels, tool boxes, and other accessories.
HOW CAN YOU TELL ITS ARMOR LININGS
~ The surface has an even texture.~
~ The trim liners are laser straight. ~